The best digital calipers are the tools of the trade for the craftsmen and metal tools makers. You will need these tools for your DIY project and various other things. Suppose you have grown a bit of interest in crafts and household work in this pandemic and realized that you don't have a tool for micro measurements and precise measurement of dimensions. In that case, you need to know what we have to tell you!
Calipers and micrometers are used to take very delicate and small measurements, which are impossible with our regular methods. These tools are essential for science labs, big industry quality checks, toolmaking, machine work, plumbing, wiring, and other works dealing with very little things, things like the width of a PVC pipe, the outside diameter of a rope/wire, the inside diameter width of a pipe and other assorted micro measurements. You can use micrometers and digital calipers for that. These tools are designed for this purpose.
Screw gauge micrometers are manual. The measurement comes up against a scale. You will need to have some prior knowledge or experience of using that. But a digital micrometer or digital caliper shows you the reading on the LCD display screen that is attached to the body.
We will list the best digital calipers today. Our list will include the highest-rated, reviewed, tested products. Verified customers, who have bought and used the digital calipers, have told us what they liked about these digital calipers, what they don't like about these calipers, and what could have been better.
11 Best Digital Calipers Reviewed: Our Top Picks
Let's review some of the top-rated digital calipers the market has to offer. You can surely find the one you're looking for from this list.
Mitutoyo 500-196-36 is a Japanese-made premium quality product. The measurement range of this thing is 0″ to 6″. These are advanced digital calipers. This ideal digital caliper comes with an advanced onsite sensor, an electromagnetic inductive sensor for liquid and dust resistance. This caliper is oil-resistant as well.
You can measure inside, outside, depth, and step values with the thumb roller. That is the best way to make sure you do not push the measuring jaws too hard.
The LCD shows digital display and inches, and it is easily switchable.
This one in all tool is a handy tool for toolmakers, woodworkers, plumbers, and anyone who works with small things.
Mitutoyo products are the best measuring products on the market now. And it is for that reason, many dishonest people have started making fake Mitutoyo products. Buy from authentic Mitutoyo certified shops or from Amazon's Mitutoyo store only.
Pros:
Light weight
Has an advanced onsite sensor
Affordable
Large LCD
Long battery life
Cons:
Possible fakes exist on the market
iGaging digital caliper is perhaps one of the most premium digital calipers we have ever seen. Like the other calipers of the list, it has a range of 0-6″, displays metric units and fractions. The premium stainless steel body is oil, dust, and splash-resistant.
With the hardened polished stainless steel body, the iGaging caliper is a professional grade tool with a super high-quality measuring device.
The extra-large LCD is one of a kind! The accuracy range is 0.001," and the resolution is 0.0005″.
It is a very affordable and value-for-money product for jewelers, hobbyists, woodworkers, machinists, DIY, automotive mechanics, and more.
This model is less costly than other premium iGaging products, such as iGaging Absolute Origin Caliper.
Pros:
IP54 protection
Lightweight
Has fractional inches measurement units
Stainless steel digital caliper
Large display
Long battery life
Cons:
Often unavailable for heavy demand
Has no protective case
Neiko Electronic Digital Calipers are the finest high-end digital calipers on the market, possibly along with Mitutoyo. 
These measuring tools read inches, fractions, and millimeters for perfect, precise reading. These are easy to convert to or from with the press of a button. This caliper has a measurement range of 0″ to 6″.
The body of this caliper is made with finely polished stainless steel with a knurled thumb roller and locking screw that ensures smooth operation and accurate positioning. You can measure inside, outside, depth, and step with two sets of measuring jaws and a probe as a vernier caliper.
The large LCD screen is perfect for bright sunlight for clear reading. Neiko is an efficient tool for woodworkers, craftsmen, and people who work with smaller, finer objects.
Pros:
Lightweight
Affordable digital calipers
Has a knurled thumb roller to ensure smooth sliding
Easy to read LCD
Long battery life
Cons:
Possible fakes exist on the market
Has no advanced on site sensor
General Tools Digital Caliper comes from China. This premium quality product is designed, manufactured, and shipped to the US, with the US Measurement system- metric units pre-installed in for reading.
The display has three measuring modes, decimal inches, millimeter, and fractional inches. The switching and conversion from one differential measurements to another are very easy and instant. You can measure inside and outside dimensions with this digital caliper.
This digital caliper comes in 3inch and 6inch sizes. General Tools Digital Caliper is a lightweight, easy carry caliper. The whole product comes in a 2 x 4.75 x 10.88 inches size and 2.1ounce weight. It has an accuracy of 0.004inch (plus or minus) and a resolution of 0.0005inch.
The large LCD display screen digital display has an auto on/off feature to preserve battery. General Tools digital caliper is powered by an LR44 battery.
This measuring digital caliper is made with non-marring carbon fiber composite for durability and strength. It comes with an attached pocket clip.
The LCD scree of this digital caliper is powered by an Alkaline LR44 Battery, which is included with the package along with a Unit instruction guide for convenient conversion (6-inch digital caliper). A digital copy of the user manual is there on amazon. It has a 90days warranty on parts and workmanship.
Pros:
Lightweight digital calipers
Three measuring modes
Has fractional inches
Large display
Long battery life
Cons:
No locking mechanism
No Depth rod
This high-quality digital caliper gives accurate measurements of outside and inside dimensions. You can use this caliper for depth measurements as well.
This is a perfect digital caliper for the metalworking, woodworking, vehicular repair works, professional mechanical engineer, and machining applications.
Starrett digital caliper offers a 0 to 6inches measurement range. And you can get another that can go up to 7.9inches. It can measure in inch or metric units.
The LCD screen is fairly large and easy to read. The brightness and contrast are perfect for reading in daylight.
This caliper is made with durable stainless steel construction (handle). Moreover, you will get plastic storage and a travel case for convenient carry.
Pros:
Light weight
Three measurement types
Has fractional inches
Depth measurements possible
Large display
Long battery life
Stainless steel caliper
Cons:
This digital caliper has three measurement unit fractions, inch, or metric units. The measuring range is 0-6″ (0-150mm), the resolution of this thing is 0.0005″ (1/128″ or 0.01mm), and the accuracy range in this digital caliper is 0.001″/0.02mm.
Sattiyrch digital caliper is made with hardened stainless steel. The finely polished body is made better by a knurled thumb roller. It has a locking mechanism for accurate measurement range and precise positioning.
You can use this digital caliper for inside measurement, outside measurement, depth, and step.
This digital caliper is available in an 8inch stainless steel model as well.
Both the calipers have a large, bright LCD display and stainless steel body. It shows the measurements in fractional inches and decimal points. The caliper is dust and rustproof.
The package comes with a pair of 2 Lithium metal LR44 batteries. The whole package is 11.97 x 5 x 1.3 inches in size and 15ounces in weight.
Pros:
Lightweight
Has fractional inches for high accuracy
Large display
Stainless steel frame
Long battery life
Cons:
No Depth rod
Not pre-calibrated
Qfun digital caliper is made with stainless steel. The material makes it rustproof.
This digital caliper has a knurled thumb roller for easier and more precise measurements, and the lock screw makes it easier for smooth sliding and precise positioning on use.
The measuring range is 6inch which translates to 150mm. The resolution in this digital caliper is 0.01mm, and the accuracy range is (+/-) 0.02mm. The caliper has one button for easy changing from inch to millimeter and millimeter to inch.
This digital Vernier Caliper is the tool of choice for jewellers, hobbyists, woodworkers, machinists, DIY, automotive mechanics, and more.
You can use these vernier digital calipers for insider measurement, outside measurement,depth, and step measurements.
The 13mm x 32mm LCD has an auto-off feature. After five minutes of use, it automatically turns off to save energy.
Qfun digital caliper is corrosion-resistant, water-resistant, and rustproof. To protect the caliper from dust, Qfun gives you a black protective case. And it has 2 SR44 batteries. The whole package is 9.53 x 3.39 x 1.1 inches (Caliper size 7.8*23.5cm) and weighs 10.58ounces. The package includes-
1 x Digital Caliper,
1 x Case,
2 x Button Cell,
1 x Screwdriver,
1 x User Guide.
Pros:
Has fractional inches to accurately measure
Large display
For precise measurements
Stainless steel frame
Long battery life, has a protective case
Cons:
Often unavailable for heavy demand
This product is very hard to find. It is an extremely high demand product that often is not available in any store or online. So, if you see find this available, buy it right now!
REXBETI has a polished stainless steel body and is very reliable when it comes to measurement accuracy. This digital caliper comes pre-tested for accuracy quality, load resistance, dust resistant, and component alignment test. The measurement range is 0-6″. The resolution is 0.01mm; these numbers mean these digital calipers will meet the demands of jewelers, hobbyists, woodworkers, machinists, DIY, automotive mechanics, and more.
The measuring jaws are laser cut for accurate measurements and will give you precise results every time. The edges are flat, laser-cut, but not sharp.
The large LCD screen shows the measurements in/mm/fractions, and it can be converted into the other units easily with the press of a button. The screen is very bright, and the contrast is perfect for reading it even in sunlight.
The display has an automatic on/off feature to save battery, which they give extras with the package that has a hard, dustproof, rustproof storage case.
REXBETI Digital Caliper 6 Inch Measuring Tool needs 2 Alkaline LR44 batteries (included).
Pros:
Lightweight
Has fractional inches for exact measurements
Stainless steel construction
Large display
Long battery life
Cons:
Often unavailable for heavy demand
This premium-quality digital caliper is made of the high-quality stainless steel. The edges are finely cut and will not scratch the surface of the measuring objects.
The accuracy of this 0-6″measurement range digital caliper is 0.01inch. The measurement can be converted from and into the International and American metric units. All you have to do is press a button.
The LCD screen has a zero button, inch/millimeter button. Press the zero button at any time to restore the scale to zero.
This digital caliper can be used to measures internal and external dimensions measuring, depth measuring, and step measuring.
The large LCD turns on when you slide the scale and turns off after 5minutes of inactivity.
The carbon fiber composite made digital caliper is 9.4 x 3 x 0.6inches in size and 2ozs in weight. Adoric Digital caliper needs a 1.5V LR44 battery that comes with the package.
Pros:
Light weight
Has fractional inches
Big LCD
Stainless steel construction
Long battery life
Cons:
Often unavailable for heavy demand
General tools is a Chinese manufacturer that makes high quality products that costs really less. This value for money digital caliper is of premium quality.
These digital calipers come from 0-6″, 0-8″, and 0-12″digital caliper models.
This caliper comes with an extra large, easy to read, tri-mode digital display that converts and switches between metric units and international standards. This heavy duty, stainless steel made caliper can measure internal and external dimensions and depth.
The semi-large display comes with an auto shut off feature. With a resolution of 0.01mm and an accuracy of 0.02mm, this tool is the best budget tool for professionals and amateurs alike.
General Tools 147 comes with an SR44 Battery, foam-padded case, and one year warranty.
Pros:
Light weight
Affordable
Stainless steel made caliper
Large easy to read LCD
Long battery life
Cons:
Some products have a poor battery
Using the WEN 10761 Electronic 6.1-Inch Digital Caliper, you'll get the precision you require. Four ways of measurements are possible with WEN calipers, which include inner/outer/step/depth calipering.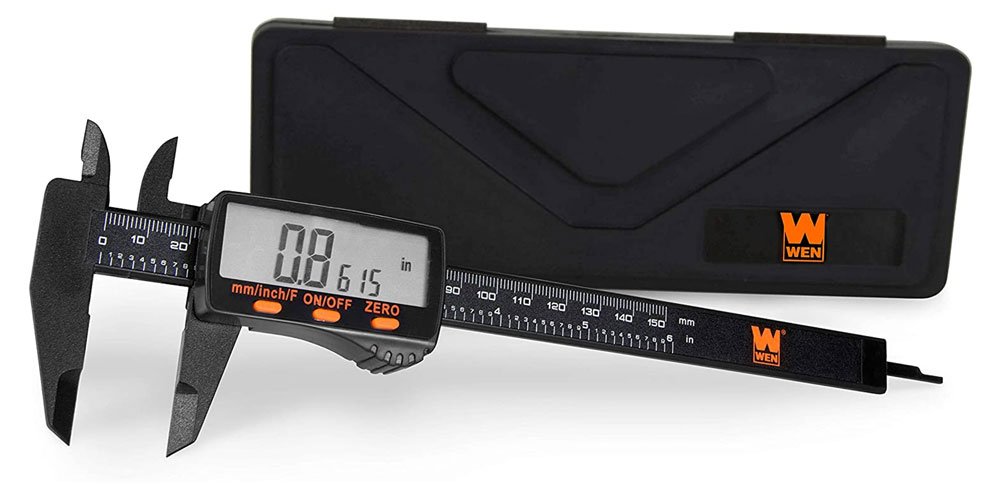 Either in metric, imperial, or fractional units, the big LCD digital display offers users with efficient and effective readings. This set contains a CR2032 3V cell and a durable container for secure storage and transportation of your caliper. The digital caliper comes with a two-year guarantee from WEN, as well as access to a countrywide network of expert maintenance staff and a helpful customer hotline, all to help you keep WEN in mind.
The WEN 10761 Electronic 6.1-Inch Digital Caliper has SAE (inch) and metric (millimeter) units, and these units can be used interchangeably.
A maximum of 6.1 inches may be measured with this WEN 10761 Electronic 6.1-Inch Digital Caliper.
The highest degree of precision may be achieved with resolutions as small as.0005 inches, 1/128 inches, or.01 millimeters. This is what makes the WEN 10761 Electronic 6.1-Inch Digital Caliper very precise.
In spite of the fact that WEN's tools aren't perfect, we'll keep using them because of the great value they provide. Because of its extra-large screen and reasonable pricing, the 10761 Digital 6.1-inch digital caliper piqued our interest, and we hoped it will be one of those rare jewels.
To begin with, the display of the WEN 10761 Electronic 6.1-Inch Digital Caliper is spectacular. It's one of the best ones in the investigation. Although this model could be calibrated, it would be inaccurate. Every time we reset this model to its closed position, the readout varied by a tenth of an inch or more.
The WEN 10761 Electronic 6.1-Inch Digital Caliper is very affordable and very efficient.
Pros:
4 measuring units
Large display, and very easy to read
Interchangeable units with a click
Cons:
Calibration issues are there
Features to Look For in Digital Calipers
We will now give you a complete buyer's guide so that you know what it is that you must look for in the best digital calipers.
Accuracy
You would want your projects to be accurate and flawless. That is why it is imperative that you find the digital caliper with the tiniest range of margin. Different calipers will have different ranges of accuracy. That all depends on the work, you are looking to accomplish with it. But as a general rule of thumb, the lower the accuracy rating, the better the caliper is.
If you find a caliper, be it analog or digital, doesn't come with an accuracy range, don't buy it.
Measurement Range
See if the caliper can measure the range you want to cover. Most digital calipers have a range of 0inch to 6inches. That should cover all the micro measurement needs. But it is a good idea to look for the measurement range. If you think you will not need a digital caliper of that range, get one in the range you need.
Durability
Calipers usually are long-lasting. The premium digital calipers are made of metal- stainless steel to be precise. But there are knock-offs available on the market. Be sure to buy the metal ones. Durable digital calipers are usually the customer-favorite digital calipers.
Battery life
Digital calipers have an LCD display screen. So, it is very important to check the battery of a digital caliper. With moderate use, the battery will last for years.
Look for auto shut off features. Auto shut-off features power down your caliper when it is not being used. It saves battery.
Storage bag
Make sure that your digital caliper comes with a sturdy storage bag. These bags are not just for convenience. They serve a very important purpose; they keep your digital caliper dust-free and away from moisture. This keeps your caliper rust-free and accurate by not letting dust sit on the delicate machinery.
Lubrication
Keep your cogs and thumb rollers clean, dust-free, and lubricated. Ask the seller what lubricant is good for your digital caliper. Make sure not to allow moisture on the LCD display screen. Although most of the digital caliper on this list has water-resistant properties, there is no point in testing it and risking your equipment.
Units and Conversion
See what the units are on a digital caliper. International Standard units and US standard units are different, depending on where you are; it may be a big deal while working. All calipers on our list have both.
See if there are conversion options, from and to US and International Units and inches, millimeters, and fractions.
Taking Care of The Calipers
Check the batteries regularly.
Don't leave it out in the sun.
Clean dust and water regularly with precaution.
Keep it in the designated box/case, in a dry and cool place. Read the instruction manual/buyer guide thoroughly.
Remember, if you take care of the tools, the tools take care of you.
Final Thought
Well, now, after the most affordable digital calipers list that is so thorough and extensive, there is not much left to say to be honest. You can definitely make your own mind.
In our opinion, these are the most-desirable digital calipers available right now, but you might disagree. We have found people disagree about a product in our research. Of course, we welcome the dissent. Please write to us (data rights reserved by our privacy policy).
FAQs
Are Mitutoyo calipers worth it?
OriginalMitutoyo digital caliper is worth every cent you spent. Buy from authentic places and if you have questions, return the product with proper documentation.
How accurate are digital calipers?
Digital calipers are easier to read. Just because we cannot read screw gauge calipers, we shouldn't say they are not accurate. Each of these two types is very accurate. And for all practical purposes, digital caliper readings are more reliable because it is machine-read, and there is no chance of calculation error, usually.
What is the leading brand that produces digital calipers?
Answer: Mitutoyo and Neiko are the leading digital calipers brand, no questions asked.
Who makes the best digital calipers?
Answer: Neiko, Mitutoyo, Rexbeti, Starrett, iGaging, General tools, Vinca DCLA, Qfun, Adoric, Moock digital caliper, Sattiyrch, Clockwise tools, and Eagems digital caliper make the top-quality digital calipers.