The best caliper is a highly precise and accurate measurement equipment that can accurately measure an object's length, width, height, depth, internal diameter, and exterior diameter.
If you are a trained mechanical engineer or a DIY enthusiast, you will undoubtedly discover many uses for a caliper in your daily life. Because there are so many different manufacturers, brands, and models on the market, it might be difficult to choose the right one.
In this article, we've presented you with several options for the best calipers available on Amazon. You can check through these many possibilities, our reviews, comparison, and then evaluate them based on your needs and convenience. We've also included a feature-rich buying guide to assist you with your purchase idea. Finally, for your convenience, we addressed some of the most frequently asked questions about calipers.
Let's start!
Types of Calipers
Calipers are classified into six categories. They are all capable of taking the essential measures. The only difference is the read-out. They're all right here.
i. Digital Caliper
Digital calipers are the latest caliper innovation with their own advantage. Instead of a rack and pinion, an inbuilt microprocessor calculates the jaws' location. Then, it displays the result on a digital display, such as an LCD screen.
The digital caliper looks like a Vernier caliper, but the technology employed makes it more expensive. Moock Digital Caliper models are examples of the advanced digital calipers, especially the Moock MK DC 01 model, which is a cult favorite.
ii. Vernier Caliper
Vernier calipers have dual scales on the top and bottom that indicate imperial and metric units. They can measure outside diameter and inside diameter, as well as depth. These are most commonly found in a school.
iii. Dial Caliper
Dial Calipers have a dial with an indicator needle. This measurement is then coupled with the scale reading running along the caliper's beam.
The dial caliper is used for measuring outside and inside diameters, steps, and depth.
iv. Jenny Caliper
Jenny calipers are sometimes known as hermaphrodite calipers or odd leg calipers. These are used to draw a line from the edge of an object. They are also used to realize the center of a workpiece.
v. Spring Joint Caliper
The screw and nut can be turned to adjust the leg spacing of this caliper. They can be used to measure inside and outside diameters.
Spring joint calipers lack a graduation scale and must be checked against a ruler or micrometer.
vi. Micrometer
Micrometers specifically measure small distances down to 1/1000 mm. They are commonly used by professional mechanical engineers for measuring objects, block thickness, shaft diameters, and slot depths.
6 Best Calipers Reviewed – Our Top Picks
Calipers are one of the most underappreciated measuring tools in the world. This measuring tool can calculate the distance by utilizing both interior and external space. Unfortunately, selecting a suitable caliper can be challenging because there are so many options on the market today.
Don't worry. Here, we will introduce you to the six finest calipers, and it will be entirely up to you to compare and decide which one is appropriate for you.
The Adoric Digital Caliper is one of the greatest digital calipers for money. This digital caliper offers precise measures with four measuring modes while being one of the most cheaper digital calipers on this list.
The Adoric Digital Caliper measures from 0 to 6 inches with 0.01-inch precision. You can also choose the other option of eight inches. It has four modes of measurement: inside, outside, depth measurements, and step measurements with two jaws and a probe. These features enhance the precision of this digital caliper.
The Adoric Caliper is very easy to use. It has a zero setting capability that lets you set zero with a button push. It also has a large LCD screen and auto-off.
This digital caliper is built of strong Plastic carbon fiber composites that are durable and light in weight. However, you have the option to choose stainless steel frame for a few extra bucks.
This set of digital calipers comes with a pre-installed battery and an extra battery.
Pros
Durable, lightweight, and portable
Affordable; offers the best value for money
Four measuring modes
Option to choose a stainless steel frame
Easy to use with zero setting feature, unit conversion, and big LCD display
Auto shutdown function to save battery life
Cons
A too sensitive power button in case of pushing
Another excellent digital caliper to consider is the Neiko 01407A Electronic Digital Caliper. With its stainless steel body and knurled thumb roller, this digital caliper is extremely durable, adaptable, precise, and accurate. Such construction qualities ensure smooth sliding and accurate positioning.
The Neiko 01407A Electronic Digital Caliper measures 0 to 6 inches with high accuracy (0.001 inches or 0.02 mm). You will also see options of eight inches and twelve inches. Moreover, it has three modes: inches millimeters and fractions, ensuring accurate measurements for every need.
The Neiko 01407A Digital Caliper is also adaptable and easy to read. It has two jaws and a probe and measures inside, outside, step values, and depth. This digital caliper also has an extra-large LCD display for easier reading, and it comes with a storage case.
The kit also includes an additional battery in addition to the original one. However, we found it cumbersome and prone to misleading readings.
Pros
Affordable price
Easy to use and read
Three unit conversion options
Versatile usage
Zero button feature with a simple button press
Finely polished stainless steel body
Offers exceptionally accurate measurements
Comes with a case
Cons
Cumbersome and unreliable readings are displayed sometimes
You can quickly and easily achieve exact results using a high-quality digital caliper designed with an easy-to-read LCD display. The Sangabery Digital Caliper turns on when you slide the rail and goes off after 5 minutes of inactivity.
The Sangabery digital caliper can measure internal and outside diameter, depth, and steps. These are measured with two sets of jaws and a probe. On the other hand, this durable and portable digital caliper is composed of high-quality, long-lasting plastic carbon fiber composites.
Additional features of this digital caliper include two unit conversion and zero setting function. Its measurement range is from 0 to 6 inches or 150 mm; with a high resolution of 0.01 inch or 0.1 mm and a high accuracy of ±0.2 mm or 0.01 inch
Each unit of these digital calipers comes with one pre-installed battery and two extra batteries.
Pros
Two unit conversion options
Comes with two spare batteries as a gift
Ideal for jewelry, screws, DIY project, and daily usages
Easy to read, large LCD display
Auto shutdown function
Refund guaranteed with Sangabery carefree service in case of customer dissatisfaction
Cons
Cheap and flimsy construction work of the body, prone to break
The VINCA DCLA 0605 Digital Vernier Caliper is another wonderful alternative built by the famous Clockwise Tools. This digital caliper is built of durable material that assures precise readings and measurements.
The VINCA DCLA 0605 Digital Vernier Caliper measures 0 to 6 inches with 0.001 inch accuracy. It can be in inches, metric units, or fractions. Each of these digital calipers is fully calibrated before a sale, but no calibration certificate is included.
These VINCA digital calipers are also composed of high quality stainless steel, making them extremely durable. This makes the digital caliper appropriate for both DIY and professional use and promises years of service. Also, it comes in a protective box.
Pros
Three unit conversion options and a large display
Better appearing, smoother sliding, and more precise results with fine steel construction and new groove processing of depth meter
Switches on automatically when jaws are open
Pre calibrated and smooth operation for any measurement types
Protective case to store the caliper
A battery included for replacing the installed one
Affordable option compared to others
Comes with one year warranty from Clockwise Tools
Cons
The data transfer port does not connect to a conventional USB cable
This iGaging Electronic Caliper has a measurement range of 0 to 6 inches and IP54 protection. The amazing resolution works to .0005 inches with.001 inches accuracy.
This stainless steel digital caliper features liquid and dust resistance. You can also buy a USB cable to connect directly to the digital caliper for memory storage. Manufacturing Standards are ISO approved, meeting DIN Standard 862. 
Every unit of these digital calipers comes with a two year warranty to ensure that what you buy is worth the time and effort you put into it. This stainless steel digital caliper, weighing only just under a pound, appears delicate.
A lithium metal battery powers this stainless steel digital caliper. You can expect it to last no less than a year. Two batteries are needed to power this iGaging caliper.
These digital calipers are built in China and of high quality. Don't judge it because it's created overseas, because it definitely defies stereotypes.
Pros
IP54 testing certified dust and water resistance
Exception precision for standard measurements
Durable body made of stainless steel
ISO certified manufacturing that meets DIN Standard 862
User friendly and extra-large LCD display
Comes with two year warranty
Cons
USB cable is sold separately
On our list, Rexbeti is a lesser-known brand. Still, this company offers an excellent, low-budget, and new measurement tool.
The design of Rexbeti Digital Caliper is extremely elegant and attractive. It measures up to 150 mm with 0.02 mm precision. It has an IP54 protection rating for water and dust resistance.
This is a fantastic looking digital caliper at a reasonable price. The body is finished in polished stainless steel for a stunning aesthetic.
As this digital caliper is more generic in nature, it may be an excellent choice for a home DIY tool. The wide LCD display clearly displays results greatest in inches, metric units, and fractions.
Due to their construction quality, these digital calipers feel heavier. Thus, you can expect better slider control for exact results. A spare battery is included, making it suitable for long term use.
Pros
Water resistant and dust resistant
Sturdy and durable stainless steel body
Auto turn on and off feature
Amazing battery life and equipped with an extra battery
Easy reading and usability
Low price,
Exceptional precision (0.02 mm) in measurement
Cons
May require frequent zeroing
The dial caliper from Anytime Tools is made to last owing to its extremely sturdy build. Since it is made of tempered stainless steel, it will not corrode, which is a plus whenever used in a workshop or garage that is not always the finest. This precise measuring instrument is an excellent investment for a variety of reasons, not the least of which is its durable construction.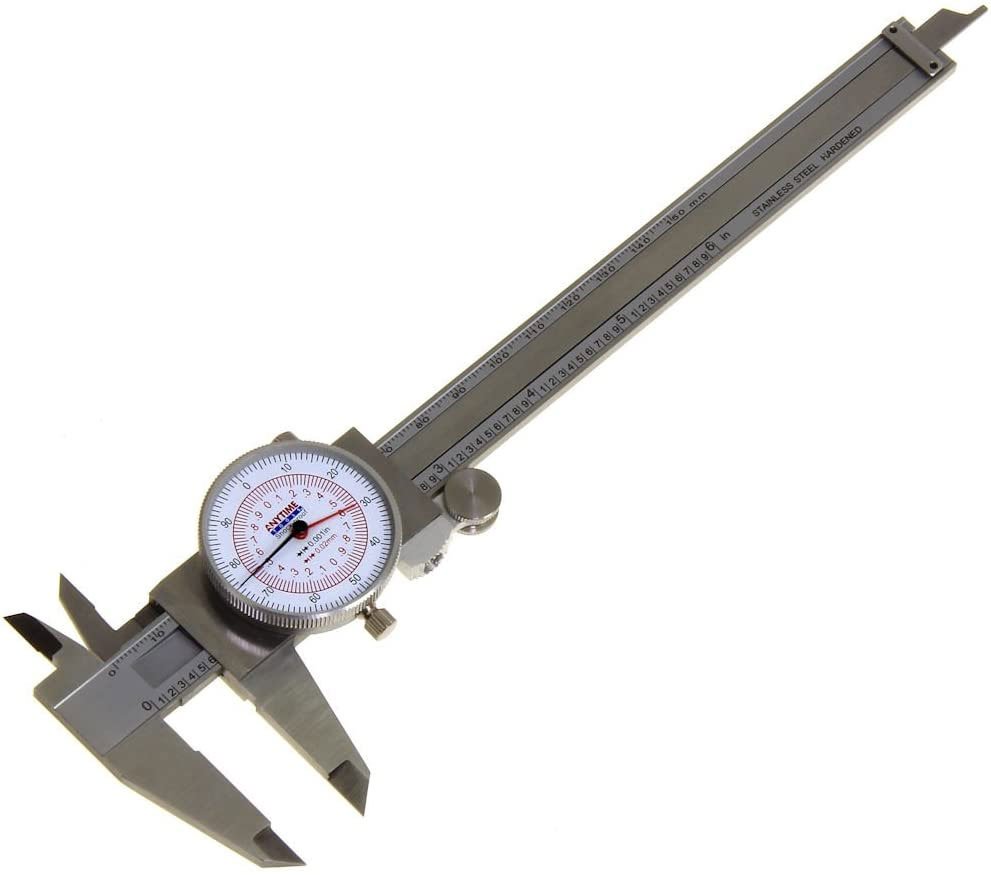 Anytime Tools' dial caliper delivers the same level of precision and accuracy that you'd anticipate from an even more expensive tool. .001″ precision is possible for internal, exterior, depth, and step measurements.
In most modern dial calipers, the dial front is solely covered by plastic. There is an easy-to-understand dial front as well as a graduating scale upon that caliper's body with the Anytime Tools Dial Caliper.
Because it doesn't need battery like modern calipers, the caliper is always available to use and is simple to handle. Having to cope with electrical problems is a thing of the past. When the instrument is only used sporadically or seldom, this is a fantastic option.
The Anytime Tools dial caliper is indeed a reliable tool. Its functionality and precision are equivalent to instruments that cost considerably much more, making it an excellent value.
If you need to take a key reading and your cells are dead, and there's nothing more aggravating. There is nothing worse than having to go out and get a fresh battery. The worst-case scenario is that you'll have to wait a few more days for new batteries to arrive.
This caliper's 12″ version, like its 6″ counterpart, offers superior capabilities at an affordable price, making it an excellent choice for individuals who need to measure in both inches and millimeters.
Pros
Low price point
Incredibly accurate
the provision of goods and services to clients
Batteries are not necessary.
Cons
Buying Guide for the Best Caliper
If you've been paying attention, you're already familiar with some great calipers. But don't just pick any of the above models at random. You might regret getting a caliper if you don't understand the basics. It would help if you also determined the compatibility of the caliper for your intended use.
We will discuss some crucial variables to consider when purchasing the best caliper for your toolbox. The following factors define the overall performance of a caliper. Before you buy a caliper, be sure it fits these criteria:
Materials
Stainless steel, carbon fiber, and plastic digital calipers all have benefits and drawbacks. In digital calipers, stainless steel is the most common material. It's heavy and resistant to liquids such as oil and water and dust. They are also the priciest.
Carbon fiber is strong and lightweight. Its closely woven carbon polymer fibers are as strong as metal yet weigh less. It is less corrosion resistant than stainless steel body and may deteriorate faster if exposed to water, dust, or UV rays. Carbon fiber calipers are usually less expensive than stainless steel brakes.
Plastic calipers are often the cheapest and lightest but also the weakest. Professionals and DIY enthusiasts rarely use plastic digital calipers.
Finally, composite digital calipers are made of a blend of conventional plastic and carbon fiber that fall someplace between the two in terms of strength and cost.
Measurement Accuracy
One of the key benefits of digital calipers is their accuracy and measurement range. For example, a digital caliper has a measurement range from as small as 0.01 inches (0.25 mm) or 0.0005 inches (0.01 mm) depending on the caliper's standard and the operator's skill level.
The precision of digital calipers is influenced by the digital elements that translate the gap between the inside and outside measuring jaws. Certain hardware components can also help.
A digital caliper constructed of polished stainless steel usually has smoother measuring jaws motion. A large, textured driving wheel may enable making finer modifications by providing increased traction for the fingers. The precision and measuring range of a pair of digital calipers depends on both the user's aptitude and the unit's individual choices.
Calibration
Calibration is the ability of an instrument to achieve results as close as feasible to ideal outcomes. Calibration is the intricate process of comparing an instrument's zero value to a calibrated sample. A properly calibrated caliper can contribute to acquiring extremely precise findings.
Many digital calipers come pre-calibrated from the manufacturers, saving the time and money of the users. But only a few options require manual calibration that professionals can calibrate as required. So, if you are a beginner, go for the pre calibrated digital calipers as your first pair.
Reliability and Durability
You should pay close attention to the maker's warranty period. The warranty period is a fantastic way to judge the longevity of a digital caliper. If the vernier caliper is exceptionally reliable, the manufacturer will offer a longer warranty period.
Next, assess the digital caliper's durability. The durability of your digital caliper will ensure that it lasts for many years and uses. Firstly, the digital caliper should be made of metal. Because metal tools are resilient to falls.
Metal digital calipers, like all metal tools, are susceptible to corrosion. Keep your digital caliper clean to avoid rust. Water damage might also affect the caliper rating digital display. Look for digital calipers with an IP rating and a solid structure to avoid water damage.
You can also check for the advanced on-site sensor. This Advanced Onsite Sensor ensures caliper is oil-resistant, water-resistant, and dust resistant. Moreover, check for electromagnetic inductivity sensors.
Measurement Units
Various digital calipers offer varying degrees of versatility. The digital caliper's measuring units demonstrate its versatility. Inches are the most often used measurement unit. However, some measurements require millimeters or even fractional units.
The digital caliper will switch between inches, millimeters, and fractions, thanks to unit conversion. These features to convert units will make the digital caliper handy in a wide range of circumstances, instruments, and tasks.
Fortunately, most digital calipers now have all three measuring modes with three different units. So, if you come across a digital caliper that lacks these unit conversion features, we recommend going with a different model with unit conversions instead.
Battery Life
As you may have noticed from our product reviews, the battery life of a digital caliper is critical. So, when choosing a digital caliper, consider its battery life. The digital screen on digital calipers is useful, but they require batteries. The digital caliper is worthless without batteries or poor battery life.
Look for digital caliper models with substantial battery life to ensure a long-lasting product. Consider the digital calipers that automatically shut off. Although these features may be annoying if they turn off while using the digital caliper, they preserve battery life.
Depth Gauge
The depth gauge is unquestionably the most important feature of a digital caliper, allowing us to accurately measure a hole's depth. This feature is also useful for measuring material thickness. Thus, check to see if the caliper you want has a sturdy depth gauge for ensuring consistent measurements.
Inside/Outside Jaws
The inside/outside jaws of a caliper measure an object's internal and external dimensions. Nowadays, most digital calipers on the market have delicate measuring jaws that can be easily destroyed. So, while selecting a digital caliper, ensure the measuring jaws are made of robust material.
Locking Screw
The locking screw ensures that the measuring jaws are properly locked for precise measurements. However, some digital calipers come with low quality locking screws that can lead to achieving false results, so be careful.
Lengths
The longer the digital caliper, the more efficient it will be. Buying a small/standard caliper won't help a professional. Beginners can achieve great results using a caliper with a length of six inches.
LCD Screen
As measuring equipment, an ideal digital caliper should clearly display the readings for the user. Neiko and Mitutoyo have a large LCD display, which is rare in most calipers.
Ease of Use
Taking precise measurements can be tiresome. Therefore, most customers look for easy-to-use digital calipers with a large screen. Thankfully, features like polished stainless steel components and a large, textured thumbwheel help make the digital calipers more user-friendly.
A large LCD screen and a lock screw are just a few of the extra features that make the digital calipers easier to operate.
IP54 Protection
The best digital calipers can be used in undesirable settings for electronics, such as machine outlets or open air. If this is a pattern, make sure the digital calipers you choose can withstand the surroundings, which is where an IP (or ingress protection) ranking comes in. IP test is a third-party certification that evaluates the environmental resilience of electronic components.
The first number after "IP" reflects the digital caliper's solids resistance, and the second number represents its moisture resistance. The standard for a digital caliper is IP54. The "5" indicates it may resist muck, whereas the "4" indicates it may resist water from all directions. If your digital calipers will be used in harsh conditions, such as outdoors, look for an IP54 safety certificate.
Caliper Maintenance Tips
Wipe the measurement jaws of the caliper and the workpiece's surface to avoid measuring errors due to dirt or dust.
Clean the digital calipers after every use.
When not in use, place the caliper in its protective case.
Use your caliper on solid objects.
Check the calibration and fine adjustment periodically and recalibrate as needed.
Never drop or throw your digital caliper.
Avoid laying the caliper on the bench where it can be damaged or wet.
Avoid putting the caliper in other debris.
Don't exceed the measurement range of the digital caliper.
Final Thoughts
A caliper can be an excellent substitute for a variety of tools. Furthermore, because it is a precise measuring tool, its accuracy is unquestionable.
After reading our reviews of the best calipers and the detailed buying guide, we hope that you will find it easy to choose the finest caliper for your needs. Just remember to keep the crucial aspects mentioned above in mind, and you'll be able to discover the perfect caliper for you.
Make sure to share your thoughts and queries for more information by reaching us through email (data protected by our privacy policy). Also, don't forget to check out our other posts you might be interested in.
Best wishes!
FAQs for Best Caliper
Are dial calipers as accurate as digital calipers?
Ans: Dial calipers are typically available in either imperial or metric systems (but not both), which means you may require two, whereas a digital caliper can frequently change from metric to imperial on the fly. Dial calipers are extremely accurate when kept clean. However, if you want to get the most precise findings while also being as efficient as possible, a digital caliper will be the best tool for you.
Are digital calipers more accurate than dial calipers?
Ans: Both have benefits and drawbacks. A digital caliper is easier to read and offers more measurement range and options. Dial calipers are more durable, resistant to damage and corrosion, and may be utilized in almost any environment. In terms of water resistance, both types can be waterproof to an extent.
What are the advantages of digital calipers?
Ans: The advantages of digital calipers include the easy reading of measurements on an LCD screen, high measurement accuracy, impressive measurement range, can be zeroed at any point without recalibration, easy conversion of units, and the ability to take four measurements.
What to consider when choosing the best digital calipers?
Ans: When choosing the best digital caliper, consider the material, accuracy, depth gauge, inside and outside jaws, systems, large LCD screen, locking screw, zero buttons or reset buttons, battery life, ease of use, and IP54 protection certificate.
When do I need a caliper?
Ans: A caliper can be used when you need to precisely measure something for a job, such as fitting pegs into holes. This is common in complicated machinery, building, room, furniture, and gadget design. Using it at home can help you measure pipes, light sockets, ventilation slots, and other typical household things.
Who makes the finest Vernier caliper?
Ans: Mitutoyo makes the top-notch Vernier calipers. Their notable model is Mitutoyo 500-196-30 with AOS (Advanced Onsite Sensor) and electromagnetic inductive sensor.