Today's world demands precision measurements such as the best dial caliper. It would be great if you had tools that give accurate readings every single time you use them. The more precise they are, the finer their tolerances. For fulfilling that job, dial calipers are here!
Many tools on the market can measure woodworking & metalworking tasks, such as measuring tapes and digital protractors. However, not all tools will offer the same precision as the dial calipers. These clockwise tools will allow you to measure accurately in both dry and damp conditions.
A dial caliper can be used to measure more accurately than a ruler. It is easy to use and versatile. It can be used to measure outside dimensions or widths and internal dimensions, and the depths or holes of steps.
However, the overwhelming number of dial calipers on the market makes it difficult to find the right one for your daily work. We are here to help you.
We have reviewed the top dial calipers available in the market. In addition, we have prepared a buyer's guide so that you can make an informed and educated decision on which measuring tools you need to buy.
8 Best Dial Calipers Reviewed: Our Top Picks
Let's review some of the finest dial calipers available in the market.
The finest dial calipers on the market are those with a durable body that provides precise measurements every time. Starrett 3202-6 dial caliper is the ideal one to represent them.
Firstly, the body of the Starrett Dial Caliper is reasonably sturdy. The structure is made from solid hardened stainless steel. All of the critical components are made from that steel. Therefore, it will provide you with a measurement service for a prolonged period of time without showing any wear or tear.
Secondly, Starrett Dial Caliper also has a locking mechanism, just like many other units. You can lock the sliding jaw with the thumbwheel, and then you can keep the dial bezel in a fixed position. This will make it easy to compare the dimensions of different equipment. In addition, it also has an adjustable bezel which can be adjusted and zeroed up in a matter of seconds. Calibrating it won't be a hassle.
Lastly, the Starrett Dial Caliper unit can easily measure internal dimensions (I.D), outside dimensions (O.D) and is capable of depth measurement (it has a depth rod). This tool will eliminate the need to purchase another tool for all your measuring needs. This versatile tool can be used in metalworking, woodworking, and machinist professions.
To all the customer's delight, it also comes with a cushioned foam case. This will allow you to comfortably transport it around the world without worrying about damage.
Pros:
Durable stainless steel construction
0.001-inch dial graduations
Adjustable bezel
Comes with a lock screw for dial bezel and for sliding jaw position
Satin chrome finish bar
Sharp & clear dial graduations
Knife edge contacts
Zero parallel tolerance
Adjustable thumb roller
Includes a carry case
Can measure O.D. and I.D.
Cons:
Most calipers will read in one measurement system; only a very few units can read in both. And the Anytime Tools Dial Caliper is one of them.
As mentioned, the unit is equipped with a unique reading system that can measure in two systems. Both are marked in different ways. Black ones are marked in decimal inches, while the metric measurements are marked in red. So, after each measuring session, you won't need to convert the numbers.
It is durable and well-built. It has a robust stainless steel body. It can be taken with you when carrying out heavy-duty measuring tasks.
The protective cover that comes with the unit is on the rack. These covers will protect the internals of the unit from foreign materials. As a result, the chances of the gear getting clogged decrease significantly. With very little measurement error, you can expect precise measurements.
The sliding surfaces for the scale have a slightly raised edge. The raised surface protects the unit from damage by graduations. It also helps to prevent shorter wear life.
In addition, this Anytime Tools caliper model also features two heavy-duty springs. And, the anti-backlash control will ensure that the gear teeth are free from jamming. This double shockproof design will keep the caliper in your toolbox for years.
Pros:
Good value for the money
Can read in both metric and imperial measurements
Hardened stainless steel construction
The sliding surfaces are slightly raised to prevent wear
Two heavy-duty springs included
Integrates anti-backlash control
Can measure inside, outside, depth, and step of an object
High shock protection with double shock proof design
Stainless steel covered rack
Cons:
Sliding jaw not smooth as high-end calipers
Plastic case
This Mitutoyo 6'' dial caliper is the top in its class when it comes to dial calipers. This dial caliper is made of stainless steel and produced in Brazil. It is praised by the tool community for being accurate, well-made, and easy to use. This caliper is perfect for you if you want one of the super accurate measuring gears.
This Mitutoyo caliper comes with a redesigned dial that is easy to read and offers ultra-smooth movements and high shock protection. We prefer the black dial face to the traditional white making it easier for us to read. It can measure dimensions of the inside, outside, depth, and step with precision accuracy.
The Mitutoyo 505-742 dial caliper has a lock screw to hold the sliding jaw in place and the dial bezel in place. When locked, it holds the setting very well. This dial caliper measures 0.0001-inch diameter and has a measuring range from 0-6 inches. The thumb roller makes it easy to adjust the caliper with one hand.
The Mitutoyo Caliper is made from hardened stainless steel. Moreover, wear surfaces have a Tin coating to reduce wear. It is built to last. In addition, this caliper is shipped in a hard plastic case. It can be safely stored and transported.
Pros:
Newly designed dial movement
Smooth sliding and high shock protection
Has a tin coating that prevents wears on the sliding surface
Includes a lock screw for the dial bezel and for holding the sliding jaw position
Provides exact measurements
Capable measuring inside, outside, depth, and step dimensions
Hardened stainless steel body
Dial diameter 0.001 inches and measuring range 6-inch
Cons:
No rust resistance coating
One of the most commonly used tools for heavy-duty tasks is dial calipers. They might be subject to many impacts and collisions while doing so. If they don't have a sturdy body, they won't offer a long life expectancy.
Fowler High Precision Dial Caliper comes with heavy-duty, stainless steel construction. It is shockproof and includes anti-backlash protection. This means that it can not only withstand everyday abuses in demanding jobs but will also be able to provide extended service.
The caliper also comes with an exterior coating providing it with rust and corrosion resistance. This will allow you to use it to measure a piece of wet equipment without worrying about it corroding or rusting.
This stainless steel dial caliper also includes a heavy-duty spring to provide precise measurement. This will make it easy to cut the wood projects you've worked so hard on.
The covered rack will prevent dirt and other debris from getting into the gear. The chances of gear clogging or measurement errors are greatly reduced by this covering.
You will also find a knurled lock screw that will secure the sliding jaw in place. You will get accurate measurements every single time consistently.
Pros:
High shock protection feature
The durable construction of Hardened stainless steel
Comes with a heavy-duty spring
Provides accurate measurement
Covered rack for dirt prevention
Knurled lock screw is included
Dial graduations of 0.001″ with one revolution equivalent to 0.100″
Corrosion resistance
Smooth sliding
Made by an American company
Cons:
Slight difficulty in zeroing after repetitive setting
Are you looking for a dial caliper that can be used in a variety of applications? Shop Fox D3208 Fractional Dial Caliper could be that tool for you. This high-quality tool is made by an engineering brand that is known for its durability and absolute accuracy.
First, it is very versatile, as we've already mentioned. The dual scales can also measure steps, unlike many other units. It can also measure internal dimensions, outside diameter, and steps. All of this means that you won't need any other type of measuring instrument to perform your measurement tasks.
This fractional dial caliper contains precisely engraved numbers in the dial indicator. The dial's numbers are in black, and the background is clear. These micro-fine graduations make it possible to get accurate readings and reduce the possibility of measurement errors. The dial graduations are 1/64th fractions and 0.01 inches.
The unit also comes with a covered rack. This will ensure that you don't have to worry if foreign materials get inside the gears. Because of the cover, you will always get exact measurements.
The unit's overall structure is very strong. The stainless steel body is protected by a coating that prevents corrosion and rust. This means that it will not rust in damp environments.
The sturdy case makes it easy to transport. It has padding inside to prevent any possible damage during transport.
Pros:
Great dial caliper for woodworking
Rust and corrosion resistance
Extremely versatile
Can measure steps
Includes a robust case with padding in the interior
Covered features rack
Micro-fine graduations are easy to spot
Sturdy Carrying Case
Perfect for measuring inside diameter and outside diameter
Cons:
No color distinguisher for decimal and fractional dial graduations
The Brown & Sharpe 599-579-4 dial caliper comes in three sizes: 6-inch, 8-inch, and 12-inch. You can also pick from two colors: black or silver.
Brown & Sharpe models have a rotating dial diameter of 1.25″ and a lock screw to keep the jaw in its place and ensure error-free measurements. These American-made calipers are a great choice.
This stainless steel caliper has a covered gear rack that keeps dirt and foreign matter away from the gear. This helps to maintain accuracy. The caliper can measure the inside diameter, outside diameter, and step of any depth between 0 and 6 inches. It has a black dial that operates with ease and absolute accuracy.
The 6-inch version does not come with a thumb roller (the 12-inch and 8-inch versions do). It is easy to adjust the carriage by simply sliding it.
This caliper comes with a plastic case, but it is less rugged than others. So, if you work in harsh environments, you may need a stronger case.
Pros:
Accurate; Meets DIN 862 standards
Precise dial graduations of 0.001 inch
Smooth sliding
Hardened stainless steel construction
Corrosion resistance
1.25-inch rotating dial diameter
This is a great job for a machinist
Long last (durable)
Uses: Inside, Outside, Depth and Step
Cons:
Maybe you do not want a fancy fractional dial caliper and would rather go for a budget one. For this purpose, you can choose an iGaging 100-164 fractional dial caliper.
The caliper's dial scale uses two reading units: fraction (1/64'') and decimal (0.01 "). Both are in inches. These fractions are necessary for woodworking. You will find the fractional graduations at the outer part of the scale. They are white-colored and easy to read.
It is important to keep the dial caliper safe in a well-padded case to avoid accidental collisions with other tools. The caliper comes with everything you need. You can even get the case foam-lined to absorb vibrations.
Pros:
Comes with dual scales
Affordable price
Made of stainless steel
Features a thumb lock screw
Durable construction
Protective case
The precision of 0.001-inch per 6 inches
Cons:
Smooth sliding not achieved
A renowned pioneer in the development and design of precise specialist basic tools, industrial machinery, digital testing tools and measuring instruments, General Tools is devoted to design and excellence for than a generation now. The brand is happy to offer a wide choice of cheap, superior electronic hand instruments and accurate measurement and checking instruments to tradespeople, artisans, and DIYers throughout the world.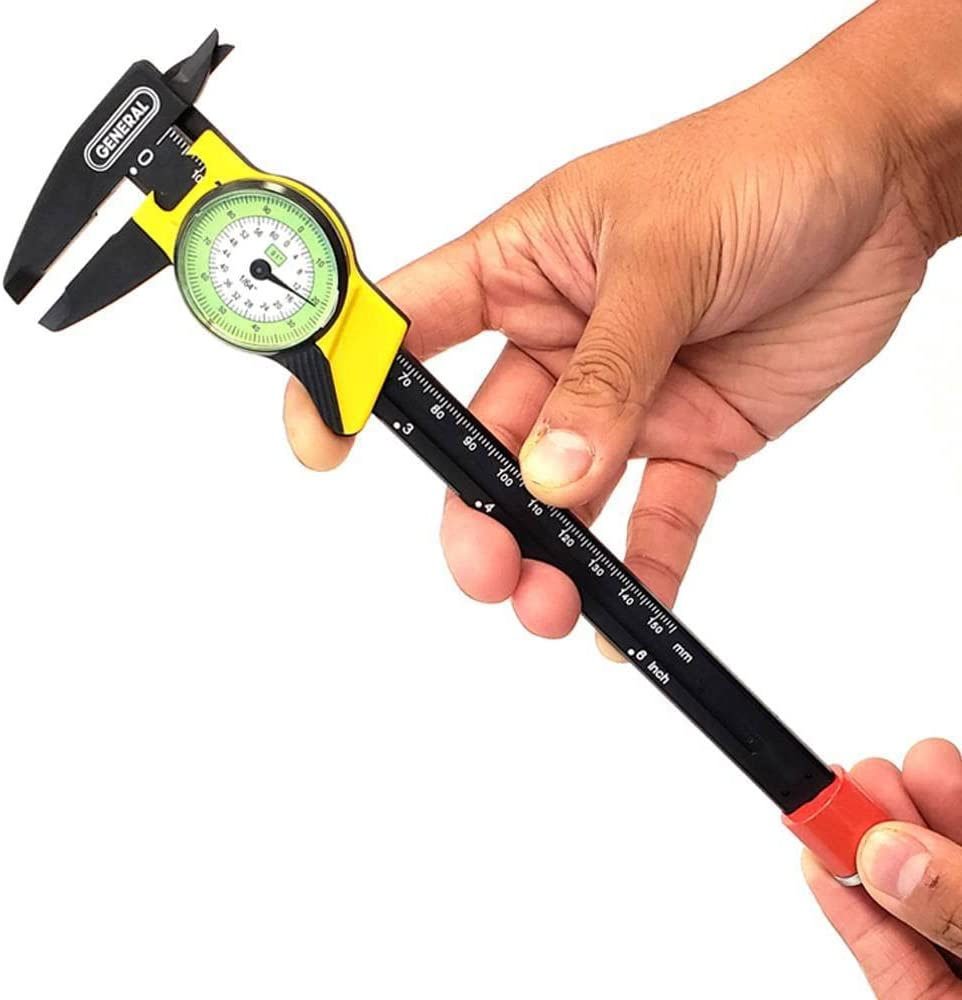 General's uniqueness stems from his inventiveness. The goal of the company is to help its customers operate more efficiently, assess their results more accurately, and be more successful. To accomplish this goal, General Tools has a long history of developing new products.
Looking for a gadget that can get the job done with pinpoint accuracy? Look no farther than this top-of-the-line measurement device. An inch-to-millimeter conversion is available on the 142 6 inch Dial Caliper with Inch Readout. It's meant to help you keep a close eye on the excellence of your work at all stages. The ergonomic design of this instrument, made with industry-leading components and high technology, ensures maximum user convenience and comfort.
General Tools 142 Plastic Dial Caliper is reinforced with high-strength fiberglass material (FRP) for durability and longevity.
The color-coded display with glare-free lenses covers highlights graduations of one-hundredth of an inch and one-hundredth of a meter.
The front of the bar includes graduations in inches and millimeters, while the rear features a fraction inch conversion table.
Any flaws in quality or construction will be covered for a year from the purchase date, except otherwise specified on boxes, manuals or promotional materials by General. General provides a limited lifetime warranty for faults in quality or manufacturing on all non-digital and non-powered items.
Pros:
Made with high-strength fiberglass material
Color-coded display with glare-free lenses covers
One year warranty
Cons:
Sometimes there is mix up in measuring units
Buyer's Guide: How to Buy The Best Dial Caliper?
Before deciding on a specific dial caliper, you might want to know all about them to help yourself make the ideal decision. For those who want to make an informed and educated decision, here's our buying guide for dial calipers.
Types of Calipers
If we boil down all the calipers into simpler definitions, we basically get three kinds of calipers. These are:
Dial Caliper
1. Vernier Caliper
Vernier caliper is the most durable type of caliper. This caliper is the original design. To achieve accuracy, it is important to align the scales properly. You will need to practice interpreting the readings on this type of calculator.
The vernier calipers have two scales. One runs along the top, and one runs along the bottom. The main scale is fixed, while the second vernier scale moves along the main one.
For precise measurements, the vernier scale is combined with the main one to give an exact measurement. The vernier caliper can display either imperial or metric measurements. However, some models will also show both.
2. Dial Caliper
A dial caliper is similar to the Vernier caliper, but it uses an indicator instead. You can use the dial scale for both comparative and direct measurements.
A dial caliper can be described as one of the leading clockwise tools. This caliper uses the rack and gear to work mechanically. The mechanism will rotate the dial clockwise. The measurement reading is indicated by the dial indicator pointing to a specific mark on the dial scale.
3. Digital Caliper
Digital calipers are still relatively new. While they can be costlier than a dial caliper (that is why they are so popular), many features make them easy to read and use. A digital caliper allows you to easily switch between inches or metric units.
This type of caliper has no moving parts and is more durable than a dial. This type is ideal for extremely difficult work environments.
Advantages of Dial Calipers
Every caliper has its own pros and cons. As this is an article dedicated to the dial calipers, we shall discuss the prowess of this tool instead of the other two.
The dial calipers have the following advantages:
These calipers do not use any battery problems, so you won't have to worry about losing power.
The strength of the stainless steel construction resists rusting and makes the calipers long-lasting.
There are no electronics problems, so that you can easily spot any issues with reading if there are any.
It is much easier to fix than digital calipers.
In one tool, you can do all the measurements: inside, outside, step and depth.
The dial caliper's resolution is identical to the vernier caliper. Still, the dial caliper's accuracy is higher than the vernier caliper.
Less difficult to read than a vernier scale because of the dial scale and the indicator.
Simple to zero by turning the bezel.
The digital caliper is more expensive, but the price of a dial caliper is still relatively affordable.
Types of Measurement in Dial Calipers
Fractional Dial Caliper:
In fractional dial caliper, the dials are indicated infractions (e.g., 3/3, 5/16, and 1/8). This only becomes an issue if the needle falls between two lines. First, you have to convert fractions into decimals; then calculate the distance between marks, and figure the result. That method is fine for seasoned users. But if that doesn't appeal to you, check the numbers on your dial caliper before buying.
Decimal Dial Caliper:
Decimal dial calipers are much easier to use. You can read the dial numbers by reading the line closest to the needle's left edge, called the reference line. First, divide the distance between two marks into tenths. Then, gauge it according to your measurements. It's not necessary to convert any numbers, as they are already in decimals.
Things to Consider While Buying a Dial Caliper
Many dial calipers might appear practically identical to you. As a result, it can often be quite difficult to figure out which ones are the suitable for you. That's why you need to know about certain features to figure out the perfect dial caliper.
Resolution
A precision measuring instrument needs to be precise. The most common resolution for a dial-caliper is 0.001". Don't buy a dial caliper if it doesn't have this resolution. It's better to buy a vernier dial caliper if you don't particularly want a precision instrument, as it would be much less expensive. However, suppose you require a higher resolution than dial caliper. In that case, there is currently no caliper with a resolution greater than 0.001 inches. A micrometer may suit your need, as it has a much better resolution than a caliper.
Measurement Range
First, you must consider the dimensions of the items that you will be measuring. Most people find that a 6-inch measuring limit on the beam (the extended arm of the caliper) is sufficient to satisfy their requirements. Although you can purchase extended dial calipers, they might cost more than 6-inch calipers. The higher the measurement range, the more expensive it will be.
If you are unsure of the measuring range to choose from, go for the 6-inch range. It will be able to handle many tasks with a caliper. A dial caliper usually comes with a 6-inch measuring range.
Material
There are some plastic and fiberglass models, but most dial calipers are usually made from stainless steel or hardened stainless steel. Some manufacturers apply a titanium nitride coating to the sliding surface to improve wear resistance. This tin coating not only enhances the price of the tool but also prolongs its lifetime.
It is crucial to select the proper material for each part of your dial caliper. These materials should be able to resist corrosion and abrasion. At least stainless steel or hardened stainless steel should be the primary material used for its most critical parts. Plastic should be avoided unless it is used for trivial parts. A good dial caliper is usually a stainless steel dial caliper.
Accuracy
Accuracy is the measure of how similar the measurement results are to the standard. Most dial calipers have a resolution of 0.001 inches. This means that accuracy should be at least ±0.001 inches. Sometimes, the accuracy of a product is not clearly described. This is a reason to avoid the product for precise measurement. However, you can continue to use it. But, further calibration with a block gauge would be required from time to time.
Display
A clear dial display can help you get a quick reading. You may need to use the dial calibrator in less bright lights. In that case, choose a color that is clearly visible in the low light. Clear reading is possible with the help of a high-quality crystal. But a display made of this fancy crystal can be more expensive. In addition, you should ensure that the numbers aren't too small. It should be fairly easy for you to read dial calipers from a distance.
Smooth Sliding
Dial calipers that slide easily offer a fabulous experience in measuring things. A high-quality dial caliper will have a smooth sliding feature. Consequently, the dial caliper is more expensive if it is smoother. This means that it will cost more money if you want this advantage.
Knife Edge Jaws
The knife edge contacts increase accuracy. We know that flatness and parallelism in the jaws can lead to inaccuracies. The jaws reduce the surface area that touches the piece that you are measuring. Therefore, you will get a more accurate measurement.
Caliper's case
Dropping your dial caliper on something or hitting it against something can cause it to be out of alignment. Then, the calipers will require a recalibration. You may have lost an expensive tool if the dial caliper can't be calibrated. Therefore, your dial caliper should come with a case with a custom-molded foam interior. This will ensure the tool stays put. Above all, the case should not allow the caliper to bounce around, as it could cause damage.
Price
The most affordable dial calipers cost between $15 and $33. You'll be most disappointed with these models due to their inferior quality and poor cases.
The middle price range is around $34-$100. These calipers have greater tolerances, and the cases are usually more durable. Some of these can still get damaged by minor drops or impacts. The top-quality calipers are those that cost more than $100, which includes extended calipers.
To sum up, acquiring quality products will cost you money.
Conclusion
Calipers have been around for thousands of years and have never lost their utility. They are extremely precise due to their design. A dial caliper is essential if you take measurements frequently. They are usually affordable and can last many years with proper maintenance. They are also very easy to use. The above list makes it easier to choose the right option for your job.  In addition, our buyer's guide will make it easier for you to decide which one to buy and give you the assurance that you made the right purchase. You can always write to us for more information (data rights reserved by our privacy policy).
FAQs
Are dial calipers more accurate than digital?
Ans: The quality of the dial calipers is a key factor in accuracy. The accuracy of a decently constructed unit with ultra smooth sliding mechanisms and high-quality gears will be impressive. But they won't be as precise as the digital measuring tools. These will be much more accurate than any mechanical measuring device.
Are Mitutoyo calipers worth it?
Ans: Yes. Mitutoyo calipers are some of the top-rated calipers available in the market.
How accurate are dial calipers?
Ans: There may be variations in the accuracy of dial calipers. If used correctly, some models may have an accuracy of 0.01 inches above 6 inches. Dial calipers are accurate to within 0.001 inches of the same length, but not all models. To determine the accuracy of dial calipers, look at the number decimals on the dial scale. This will show you what each graduation interval is.
How does a dial caliper operate?
Ans: Dial calipers operate using a pinion mechanism and a rack. The jaws' linear motion is conveyed to the dial indicator, which uses a rotary motion to indicate the exact measurement. On the other hand, the dial works with the gears that are inside it. The revolving movement depends on the dial.
What is an inside caliper?
Ans: This is the caliper that measures internal dimensions. This could be the diameter or length of a bolt or hole. The jaws, in this instance, face inwards (reverse jaws), as opposed to the jaws that curve inwardly. The reverse jaws of dial calipers are usually located at the opposite end to the larger jaws.
What is the most accurate caliper?
Ans: A digital caliper is usually the most accurate caliper. It measures lengths digitally and is free from human errors. However, it is more expensive than a dial caliper.
Who makes the finest dial caliper?
Ans: There are many brands that make high-quality dial calipers. Among them are Starrett, Mitutoyo, Fowler, iGaging, Anytime Tools, Shop Fox, Brown & Sharpe, etc.